The river has boat moored for a considerable length with no apparent visitor mooring so we hoped that the visitor mooring at Jesus Lock would have a space long enough for Matilda otherwise it would be turn around and retrace our steps. Luck was on our side and there was one spot left!
An easy walk across Jesus Green to the town centre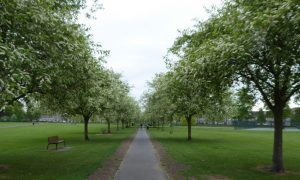 We went to choral evensong at Kings College Quite an  experinece sitting in the choir stalls next to the choir of some 16 young men.
Punting and rowers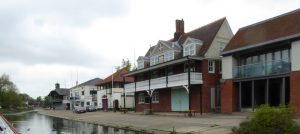 Boathouses line the river towards Jesus Lock. By looking at the colours on the oars you can identify which college is out practising. The coach is either running or cycling alongside.
An excellent wisteria adorns one of the colleges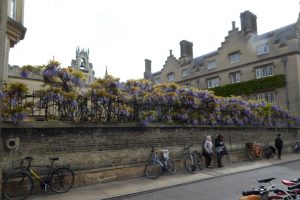 We climbed the castle mound for the view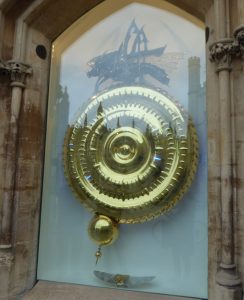 An intriguing clock – the blue flashes indicate the hour minute and second
A little culture at the Fitzwilliam and Museum of Cambridge
My favourite item in the Museum of Cambridge: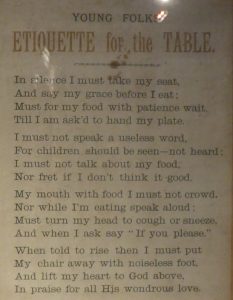 Mooring is only allowed for 48 hours with no return for 14 days so our visit came to and end
We came across this novel idea. Instead of a normal pontoon along the bank this one was built out to fit exactly around the stern of the boat making a huge seating area.