An easy journey from Ware to Hertford just two locks but two very low bridges.  Managed to find a far from ideal mooring but as usual all the visitor moorings were full! However this time there were some real visitors.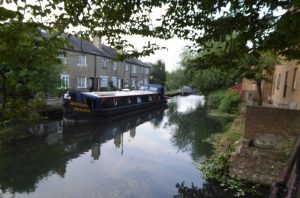 The town is busy but has a Tourist Information Centre with keen staff, a good number of independent shops as well as Waitrose and Sainsburys (this one in particular was tidy) and a tiny but very interesting Museum. If as a child you had a Wisdom toothbrush then it was manufactured in Hertford by Addis.
The next three photos will interest Hilary.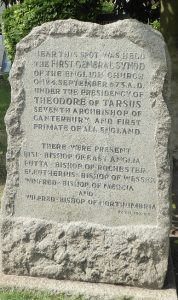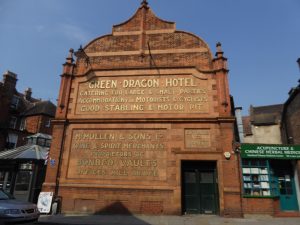 An interesting Inn
And here are photos that should interest Gliding instructors John and daughter Amy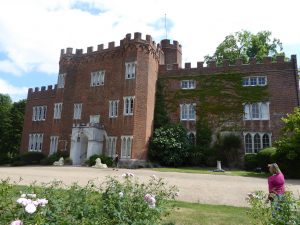 The Castle now Council Offices
We met some very friendly locals and in particular an elderly gent on a scooter who  without doubt is the best ambassador for the town. Our thanks to the lady who gave us courgettes: in return I gave her my baked courgette recipe which she promised to make for her son. Overnight fishermen did well. A carp weighing in at 10lbs and a later one at 12lbs
This morning we discovered that overnight  a willow tree had fallen across the canal which meant we couldn't leave!   We phoned the CRT and the company who run the trip boats to warn them not to do their normal weekend run as they would be unable to reach Hertford town to turn around for the return journey.
Well, the CRT did arrive about 11am with cutting equipment and helped by other boaters and us managed to clear the blockage. Thank you Dan and Greg.
So off we set to return to Ware.
We were in the first lock when a lady runner told us two trees were down across the river on the edge of Ware!  So another call to CRT and we set off thinking we would meet the CRT guys at the obstacle.
Once through Ware lock we met a narrow boat coming towards us that had managed to pass the fallen trees but the skipper doubted that we would make it.  But once around the bend we could see that we would not be able to continue. A call from the CRT said they could get someone out "late tomorrow". What to do?
So, armed with long loppers, a saw, boat hooks and secutuars we started to hack away watched by a large towpath audience. We did have an offer of help but they had no equipment to move two trees!  After much hacking and moving the boat to & fro we managed to force a passage through the greenery.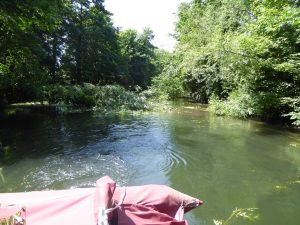 And within five minutes had found a quiet shady mooring. What a relief!
The it was off to see Scotts Grotto.
and then we just in time to purchase the last Strawberry tarts from Simmons!
This morning after a leisurely breakfast we set out to take our recycling  but saw a poster advertising a talk on Ware that was due to start at 11.30. The time was 11.25 so with our recycling bags we went straight to The Place to hear an excellent talk!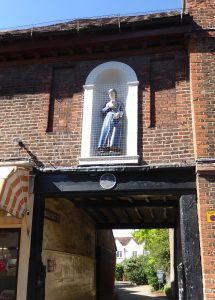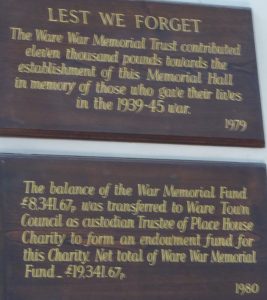 This memorial is on the wall
And finally a little stroll up the canal to find the tree had been dealt with!