Leaving Cassiobury Lock disaster struck!  Beeps and flashing lights and sudden engine temperature rise made us pull in before the next lock- a far from ideal spot.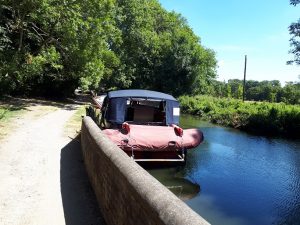 The fan belt had gone! Placed a call to RCR (River & Canal Rescue) the AA of the waterways. An engineer appreared at 6pm but did not have the correct size belt. He returned the following morning and fitted the part, So problem solved and off we went to Abbots Langley. Nicely cooked meal in the pub next to the Library. It had labelled shelves  cookery, biography, travel etc Very impressive!
Lovely church too, although crossing the road might be a bit of a problem'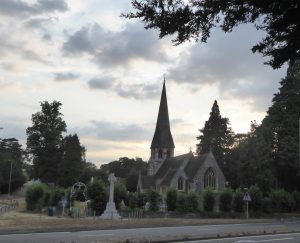 Apsley has a mooring to enable you to stop and shop at Sainsburys. Having complained last year about all the litter and debris on the path to the store they obviously have done nothing to remove it and this year it also has three abandoned supermarket trolleys. I am not shopping there on our return journey.
The M25 Stiil has scaffolding holding it up!  I was waiting for an Eddie Stobart lorry to cross, but it failed to appear!
On to Hemel Hempstead overnight and to Berkhamstead but too late to go to Simmons for strawberry tarts! We moored opposite the park and just behind M&S and Waitrose.
The swan family came for supper. Six cygnets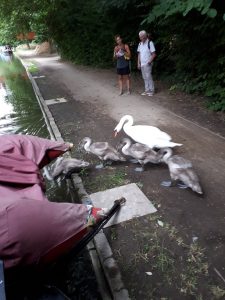 There is a Saturday market along Berkhamstead High Street and a craft fair in aid of St Peters with the most beautiful knitted and crocheted items.
Sunday we had visitors.  Gary the London Cabbie we met last year on the River Lee and his girlfriend Tracy came for lunch. We had lovely chat in spite of the drizzle!
Tuesday morning I was woken about 6.45 by lots of flapping and water noises then I heard voices and felt something was wrong. So I went to the bow in my  nightie (!!!) to find 2 men saying a cygnet was trapped between Matilda & the bank. I woke Tony & got dressed in seconds & went to investigate. Sure enough, two cygnets were trapped. One managed to get out but the second was getting more & more agitated and couldn't lift itself out. I thought back to the morning at the PCT where Jenny Edwards & I found a swan sitting on the flat roof outside our office window. It was caught by putting a sheet over it. So, I grabbed an old towel and kneeling in the mud grabbed hold of it and got it onto the bank where it crawled under the hedge heavily waterlogged. Then I made 4 phone calls to Swan rescue, before getting a response from Tiggiewinkles pet rescue who sent a volunteer out to collect it. Drama over but it wrecked my back again.
31st left Berkhamstead and waited at lock 48 for the CRT to come and open the damaged lock gate 47 at 1.30, A charming gent arrived at 1pm opened up for us and we went on to the bizarrely named Cow Roast to moor.