Cassiobury Park was recommended as a good mooring place and it is!  It's an extensive park on either side of the canal with bandstand, cafe, childrens paddling pools and shaded walks.  It's a long hike across the park but it takes you into the centre of Watford
We visited the Museum – a little old fashioned but what caught my eye was their "100" competition. Paintings and literary offerings on the one hundred theme. It took me almost an hour to read all the entries mentioning suffragettes, WW1, inventions over the last 100 years, birthdays etc  What a topical and clever idea!
Then we needed a bit of air con so we caught a bus to the Vue cinema and watched Mamma Mia Here we go again! Very amusing and featuring all the old cast as well as new. Definitely has the feel good factor.
Returning through the park from shopping on Saturday lunchtime we met a lady litter picking and stopped to say thank you and a chat. She explained that the Friends of Cassiobury Park did litter picking on certain Saturdays. We decided to help. Well, it gives purpose to a walk n'est ce pas?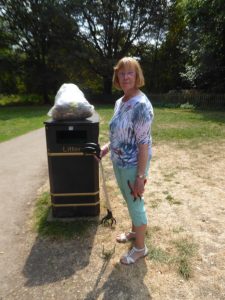 Met up with Jacaranda again. Claire & Jeremy helped us through several locks a few days earlier. Jeremy did well at fishing and caught this sizeable bream.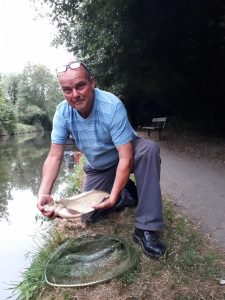 An interesting sight. Floating pontoons. A cable is being laid along the length of the canal so the floating pontoons act as a temporary footpath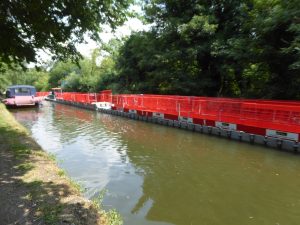 Caught up with Chums Anna & Perry who moored up next to us. We met them on the K & A last year when they too were going to Caen Hill Marina. We wish them all the best as they are off to Scotland for a couple of years.
Tomorrow we are moving on ……….