As we left Waltham Tony got into conversation with a gent walking along the towpath  who was very interested in boating.  This turned out to be Gary, a charming London Cab driver who lives locally. He came aboard for a short journey and gave us walking directions to the local retail park in Cheshunt. (M & S had a "Dine in for £10" offer that we wanted to take advantage of!). Thank you Gary.
The was a car parts dealer close to M & S, and we went in to ask for a particular fuse that we need for the bow thruster. (We always like to carry a spare just in case. We got caught out on the Leeds and Liverpool last year). The two gents who worked there could not have been more helpful. Although they did not have this fuse they rang a company that they deal with and arranged to have the fuse posted to the shop. Then Graham  offered to deliver it deliver to Matilda on his way home. What excellent service. Bennetts deserve a nomination for retailer of the year.  Our very grateful thanks to them.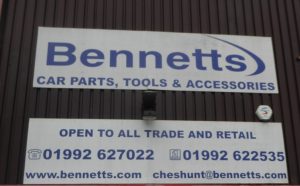 In the afternoon we continued up river losing sight of the power lines and it became wooded and very pretty. The water is lovely and clear and can see the weeds and fish below.
At the very scruffy Feilde's lock this was the mess we saw at the water point. Why do people do this? It's a water point and elsan disposal, not rubbish and hence no skips.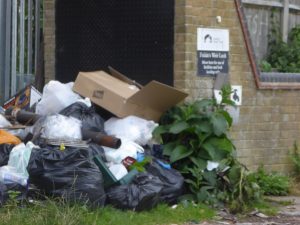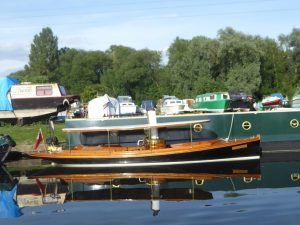 A lovely steam yacht at Lee Valley Marina.
We carried on and just squeezed into a 60 foot space at Stanstead Abbots/St Margarets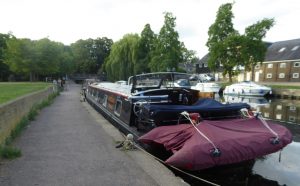 We took a walk along the pretty High Street of good variety of mainly independent shops and eating places, and found this notice. It pleased me enormously.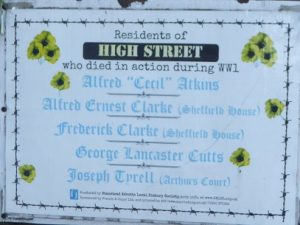 Alongside the mooring was open space, grass but including cobbled areas with quotations within, and a stone monument, but we couldn't find a plaque explaining the background.