As the river level was still high and the rail bridge low we went to Bishop Stortford by rail even though it was the rail bridge that stopped our progress!!!!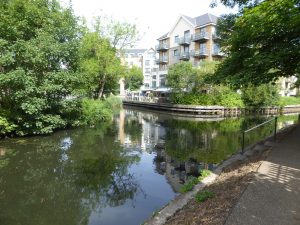 The winding hole  (where you turn around pronounced wind as in breeze not wind as in clock)
We walked from the station to the river, but passing by the bus station Tony was accosted by a hat wearing lady who admired his Tilly hat. (Check out their website). She was wearing a chinese made £22.50 hat!  I wasn't wearing my Charleston Market hat today!
We walked along the river to the visitor moorings and upto he Tourist Information Centre (TIC) that  furnished us with two, yes two, town walks.  The first one went by M& S so we bought a "Dine in for two for £10" and that lead us to the (Hilary, you will like this)  Methodist Chapel where we had coffee & real homemade cake and an Abba CD & Bernard Cornwell novel. I was surprised at the cost 60p for both. Needless to say I added a bit more!
Did a bit more shopping at Gerry Weber (on sale) and then we visited the Museum featuring Cecil Rhodes (of Rhodesia fame for those of you able to recall earlier British colonies in Africa) and local personages and history.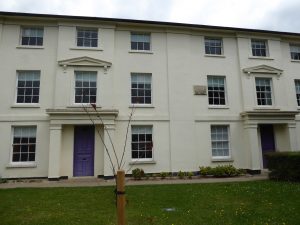 I liked the embroidered tapestry of the town.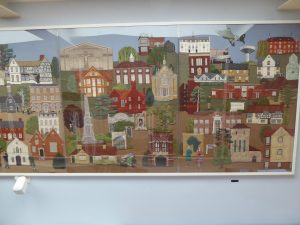 Note Stanstead Airport is close by.
All in all a most interesting place!  Then to the Motte in the pretty park, and finally Coopers where we bought odd bits and chocolates to celebrate Matilda's birthday.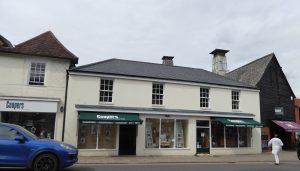 As we pulled out of the station to return to Roydon who should be sitting on the platform but the lady in the hat!!!
On our return to Roydon we measured the river level. it had gone down by 6 inches in 36 hours so we could now go by boat!!!!