Our first cruise of 2017 in fantastic weather. Left Kings Marina with friends John & Hilary aboard for the first leg of our journey. Today was the first day that the volunteer lock keepers were on duty and  once we had radioed to them, they prepared the lock which made going through locks so much easier and quicker.  Overnight mooring at The Ferry Boat at Stoke Bardolph.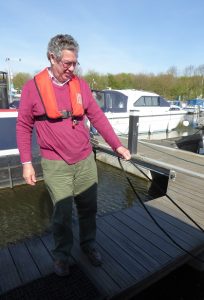 John casting off from Kings Marina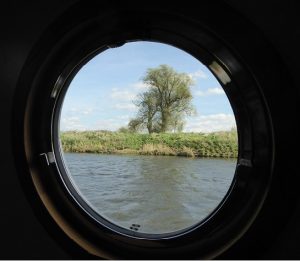 An artistic view of the Trent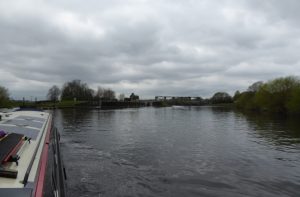 A view of the River Trent going upstream on day two.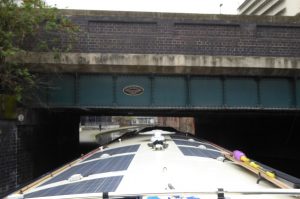 Some very low bridges on the canal on London Road, Nottingham meant we had to take down the awning.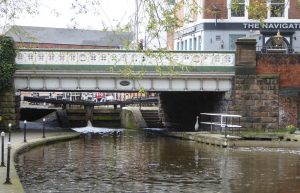 Wilford Road bridge, Nottingham adjacent to Nottingham Archives where I had a behind the scenes tour on our return journey.  Can you spot the heron?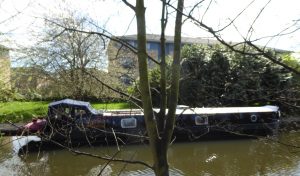 Moored up on Castle Boulevard close to Sainsburys!.
Wednesday morning Tony went off very early by tram to Hucknall to the metal workers for modifications to Matilda's exhaust extension.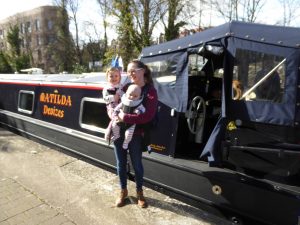 Jeni, Olivia and Joel visiting.
Lovely evening talking canal boating with Mick and Teresa from Midday at The Waters Edge formerly The Baltimore Diner!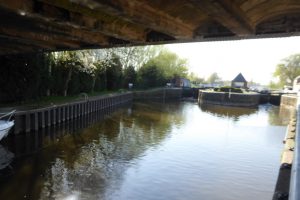 Thursday another sunny day, saw us sailing upsteam to Sawley. This is Sawley twin lock and it's very confusing as there is no indication as to which lock you enter. There is also no lock keeper and it is very difficult for someone to get off, as the walls are high and there is a weir.  We managed it with some difficulty. Once on land the gates are fully mechanised so only a key needed not muscle. Excellent and popular mooring above the lock.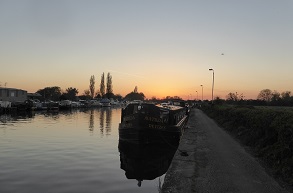 Sunset at Sawley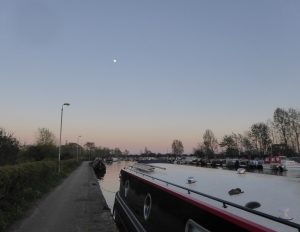 Moonrise at Sawley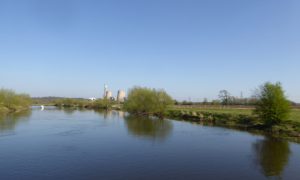 My favourite power station at Radcliffe on Soar
Friday afternoon we decided to venture up to Shardlow, a real canal village, but there were so many boats moored we couldn't find a space wide enough, nor could we turn,  so we carried on to Weston on Trent where we spent the night, without realising we were under the flightpath of East Midlands Airport. Luckily not too many flights to Majorca!
Saturday we got up very early as we had to continue another couple of miles before there was a winding hole to to turn around. Turning was fine and we returned to Shardlow and then Sawley without meeting too many hire boats. It was Sawley Marinas Spring Fair so we went over to see some of the events and have a late OAP lunch "for the lighter appetite" It was delicious and I came away with a doggy bag as the portions were huge! Later in the evening we were treated to the sounds of folk music drifting down river. We were outside until 8.00pm enjoying the warm weather.
Friends John & Jolanta visited on Sunday and after lunch we paid another visit to the Spring Fair enjoying the sunshine.
Monday friends Hilary & John joined us again for the trip back to Nottingham where we moored up again alongside Castle Boulevard, with a view of the castle itself.
Tuesday I visited the Archives, whilst Tony did jobs on the boat, and Wednesday John  cycled down and helped us back to Newark.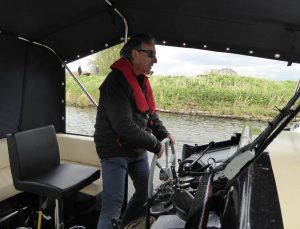 John steering
There was a holdup for about an hour at Hazelford whilst repairs to the paddles were carried out and so we arrived in Newark at 5.00pm. John then had to cycle back home to Nottingham.
Thursday after refuelling etc we said goodbye to Andy at Kings Marina and waved Au revoir to the friends we had made at the Marina and moored on on the floating pontoon to be prepared for an early start on Friday for the next cruising adventure.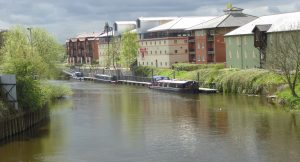 Moored on the floating pontoon at Newark