An uneventful passage through Nether Lock at Newark followed by a flotilla of cruisers all keen to overtake on our way towards the renowned Cromwell Lock. We had to moor up and wait for the tide so we filled up with water and chatted to other boats waiting with us.Cromwell lock sees the beginning of the tidal Trent and is huge.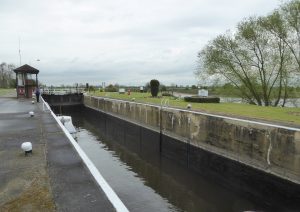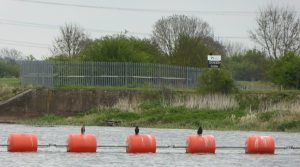 Cormorants on Cromwell weir barrier
We left Cromwell at 12.07 following a cruiser and two narrow boats that were aiming to moor overnight at Torksey floating pontoon on their way downstream. Charts are needed in order to follow the deepest channel and avoid sunken islands, sandbanks and other hazards!
We radioed ahead to Torksey and as we tuned into the channel approaching this lock, one of the narrow boats was trying to turn around. This was quite a tricky situation as the pontoon was filled for the most part with delicate cruisers and we, a large steel boat able to inflict a considerable amount of damage, were trying to remain stationary whilst all this manoeuvring was taking place.  (When the boat loses speed it loses steering).  At one point the narrow boat even appeared to go aground!  Finally after a lot of nail biting on our part they pulled in and the lock keeper was able to open the gates for us at 14.59 so we had made excellent progess helped by quite a high tide.
The lock keeper (Anjay?) on duty was the same charming one that we had met last September. He was so helpful taking up the rope for the passage though the lock, indicating where we could moor and lending  us a book on the Fossdyke and Witham with very useful notes pencilled in. Torksey Lock always draws onlookers and has very historic lock mechanisms and the lock keeper invites a large person to help him operate the paddles. He also promotes dinner at The White Swan where portions are generous to say the least!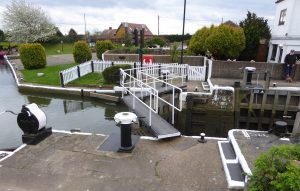 Historic lock gear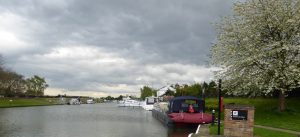 Moored up at 15.30 and of course went to The White Swan later for dinner!  We thought of last September when we ate here with Louise and Andrew, We even sat at the same table!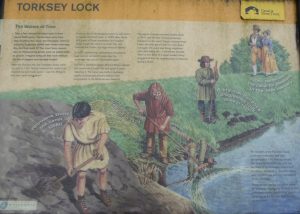 Information board at Torksey Lock
We set off on Easter Saturday passing one kilometre of moorings. The Fossdyke is a roman canal and therfore straight for the most part with quite high banks. It was a busy morning -we met two other boats!  At Drinksey Nook (yes, a real name) the A57 runs alongside the canal and Skegness of childhood holidays is 51 miles distant. We were recommended to moor at Saxilby and were not disappointed.
The local history society has done an amazing job promoting the village and has leaflets on the canal bank of the history trail. The trail eventually leads to St Botolphs Church where we met the flower arranging ladies preparing the church for the Easter Sunday service.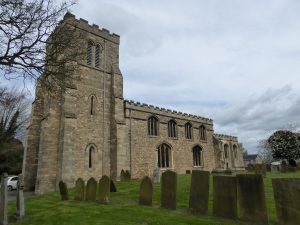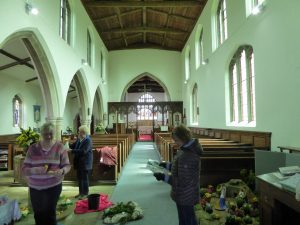 One of them was arranging a pedestal and she explained that this arrangement commemorated the death of a local airman in the second world war. His then girlfriend has sent money every year since then for this red white and blue arrangement. A 94 year old local lady, who was involved in our conversation, had known this young airman and rememberd him quite clearly.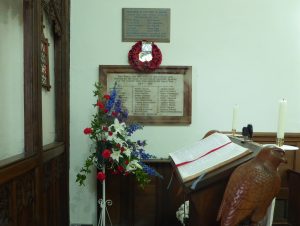 The Airmans memorial flower arrangement