Most of November and December was spent in Poole where Father in Law was in hospital. Between hospital visiting we managed to walk along the front and admire the Sunseekers being built and visit the excellent museum.
Poole Museum and retro kitchen display
We also returned overnight to attend Devizes Family History Society and move Matilda from one side of the Marina to another. We are now moored close to the entrance and backing on to the K & A canal.
Iced over
We have entered the best decorated boat competition but other owners have really gone to town with decorations and lighting. Our lights are very modest in comparison
Some decoraed boats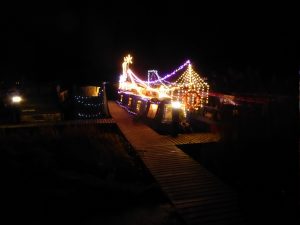 As our normal Christmas plan for spending time with Father in Law was not going to happen we managed to get a last minute booking at a very nice hotel in Derbyshire. Lovely room, excellent food (although the hearty portions are too much!), and friendly service.
Christmas Day we walked around the village and then drove up to Castleton to see the lights that we learnt about via Countryfile.
Boxing Day we got up early and drove to Matlock to view the Raft Race. Great fun! Lots of flour and water!
And over the weir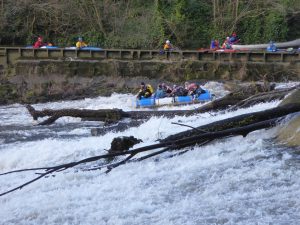 27th we visited Chatsworth House where this years Christmas decoration theme was Charles Dickens. It was well worth the visit. Superb staging.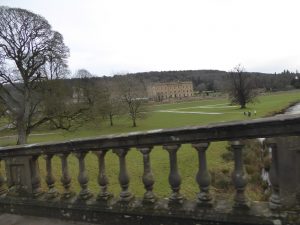 Every department of staff made a welcome wreath. This was made by the gardeners. Can you spot the clues?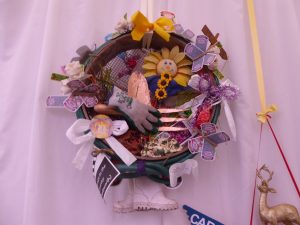 Fagin and Miss Haversham:
And a strange portrait……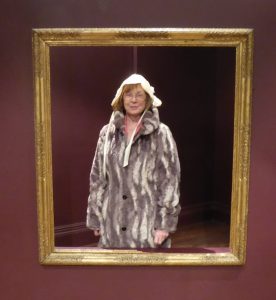 Then we caught up with Ruth & David in Poynton and returned in time for the Marina New Year's Eve party so a good end to 2017