There's never a dull moment in Devizes!
We arrived in time for the last public consultation on the Wharf Area and were glad to have the opportunity to add our thoughts on its future development.
I managed two cinema visits to see Judi Dench as Victoria and the Christopher Robin film.
We have joined the Towpath Task Force and volunteer every Thursday. We have edged and weeded locks, painted picnic benches, and filled in potholes.
We attended the Wiltshire Museum AGM met up with friends and came across this item about Queen Matilda.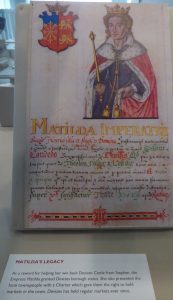 We attended two MacMillan coffee mornings one here at the Marina and one at the Museum.
Devizes books Literary evening are always an unmissable event. September was on the theme of Cats and October as you would expect was a Spooky evening.
We attended a lecture on Passchendaele at Devizes Books and listened to a hilarious talk by Rosemary Hawthorne at the Assembly Rooms, entitled "Did Jane Austen wear Knickers?"
Avebury Manor put on a Apple event. It was very well attended but we found it a little underwhelming.
The 16th was the 30th anniversary of the "big storm."  Here the sun was red and the sky yellow! Very bizarre!
Probably the most exciting afternoon was attending the Titanic Auction. A letter was being auctioned with an estimate of £60,000 to £80,000. We went to view on Friday afternoon and inevitably got chatting to Alan Aldridge (as yet no relation) and his wife.
Panels showing previous saleroom exhibits
The Titanic memorial wall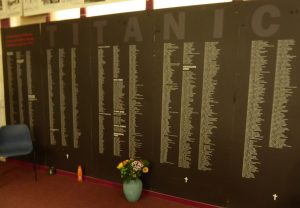 We were a little surprised to see the letter featured on the BBC News at Six on Friday night.  Good national publicity for Aldridges and Devizes.
We had front row seats for the auction. The cup and saucer and dish I wanted both were way above my £25.00 limit!
The tension heightened as the letter came up for auction. There were Internet bidders and three phone bidders as well as collectors in the room. There was a pause at £80,000 then a telephone bidder came in at £100,000 and the hammer came down!
Alan offered this flag to Tony but as Tony explained it was bigger than our boat!