From Cow Roast there is a lovely section of canal through a deep wooded cutting that leads to Marston locks and the Wendover Arm. Happily we met Terry, a wonderfully welcome Volunteer, who helped us down the flight, passing views of the depleted resevoirs. Once down and past the Aylesbury Arm junction, there are some lovely views across farmland and several well spaced locks before reaching Linslade/ Leighton Buzzard.
Ivinghoe Beacon and Whipsnade Zoo lion cut in 1935
The water level had dropped and it was quite shallow.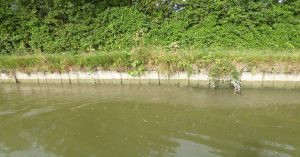 We moored for one night at Ivinghoe locks then one at Linslade. The next night was just after Willowbridge Marina where we discovered the tail end of a Canal Fest at Fenny Stratford. The Coffee Boat
The following morning we arrived at Milton Keynes mooring between bridges 82A & 83. The canal through MK is edged with cycle tracks and walks and poplar trees. It's very pleasant.  All along the canal are these new signs and new logo. I wonder how much was spent on these? I would have preferred the money to be spent on improving the difficult lock mechanisms and gates.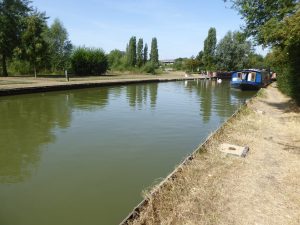 We were able to walk up to Campbell Park and were on bus route 8!  We spotted the construction of the new marina and housing area. No evidence of proposed new wide link to Bedford and beyond?
Inevitably we went shopping in John Lewis, and bought a new camera.
John Lewis fabric department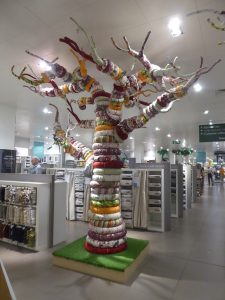 Milton Keynes celebrated its 50th birthday in 2017  and the shopping Mall had a very interesting exhibition of drawings of fifty years ago of what the newly planned Milton Keynes would look like  An artists impression of the architects drawings.

We had tea in Waterstones (twice, assistant very friendly) and in the same area was the weather forecast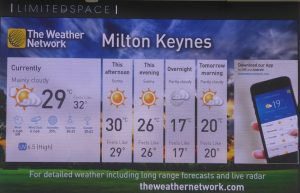 Many families took to the beach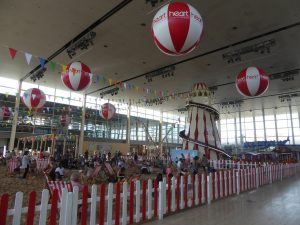 The ground was so dry our mooring pins kept being dragged out by passing boats.
Our moored neighbours Paul and Saren on Dignity looked after Matilda while we went to Newport to visit Tony's Father. Our return train on which we had reserved seats (Aviva Cross Country) was cancelled!  We then had to travel to Bristol Parkway then a delayed train to Birmingham New Street and then a sprint across the station to platform 1 for our connection to Milton Keynes!  The CRT have very smart offices in Station Square. Probably costly too, but about as far from the canal as its possible to be!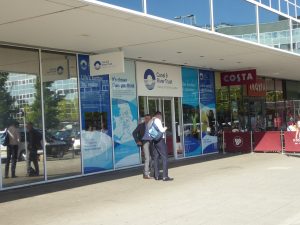 Thank you to Julie "the honey lady"!  Your honey is delicious and we wish you continued success with your bees.
Used the winding hole to turn around on 9th August to begin our slow return to Devizes.
Do look out for a few more exciting adventures in the days to come…….