We have really enjoyed these last few days Close to transport links & M & S Food!  We did not venture into Patisserir Valerie even though it was open till late!
We are sheltered from al the noise and bustle in this tranquil oasis.
Looking back from Matilda
Every Wednesday and Friday at noon (and Saturday 2pm) the Rolling Bridge and the Fan bridge are actioned and are so interesting to see.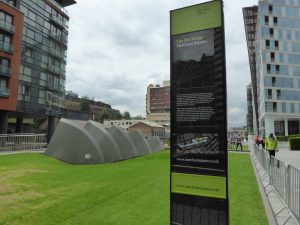 We are in very good company: adjacent apartments (not flats!) are selling or renting at ridiculous prices…….
Tuesday, a rainy day,  was spent at the Imperial War Museum and from arrival just after opening, we were thrown out before we had completed floor five!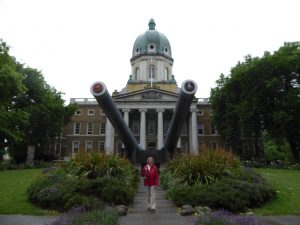 Wednesday we took the train to the Port of London Authority at Gravesend to collect charts of the River Thames, after some very helpful staff there encouraged our journey, even with train and visitor information. Train reaching 140mph at times was a change, and resulting in just over 20 minutes all the way out to an interesting area on the Thames.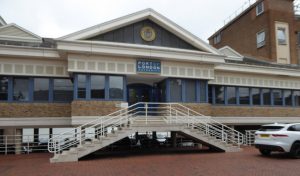 We saw the statue of Pocahontas in the churchyard.
Then we spent the afternoon at Westminster Abbey as I had never been there before. I was delighted to see the memorial stone to mathematician Mr Green of Greens Windmill, Sneinton, in the company of Darwin and Faraday. So sad that the feet of so many visitors are destroying the commemoration stones, lacking any protection. Even at an off peak time it was so crowded we didn't really appreciate it all and at  £17.00 entrance fee each, plus tea and cake to recover………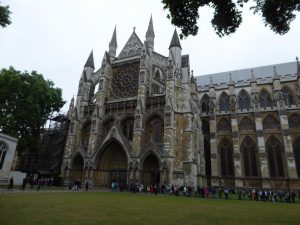 We waked back seeing……
Yesterday we visited the Army Museum in Chelsea.where we spent hours in their research area trying to find more detail about my Fathers Normandy exploits. I now think he was in the 5 Royal Tank Regiment part of the 7th Royal Armoured Corps commonly known as the "Desert Rats." But there are yet more unanswered questions that will keep me busy next winter. We  ended the day by seeing the Carole King musical "Beautiful"  We really enjoyed it as being of our era we knew all the songs. We were too polite to sing along!
Today has been less active, although we notched up over 14,000 steps by walking from Little Venice through Camden to Regents Park.
Tomorrow we set sail again with quite a few locks as we go to the Lee & Stort Navigations.