So leaving Culham we left a weed free mooring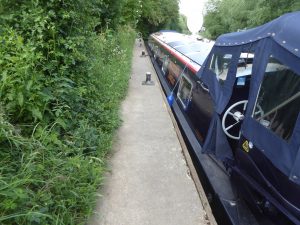 At Wallingford the current was still quite fierce so we spent two days hoping for the current to decrease and because we like Wallingford! We visited the wonderful bookshop, the Church, butchers, antique centre, not forgetting Waitrose!
A colourful bus with map of its route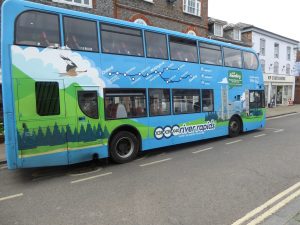 The Kinecroft – just one of the towns open spaces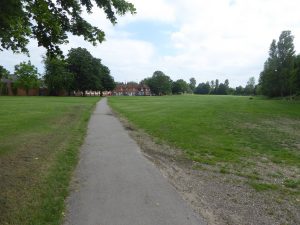 Model boat in the antique centre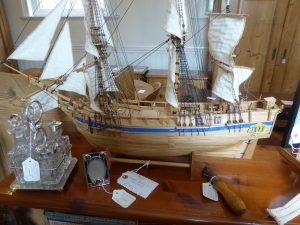 We watched a cruiser in trouble at the bridge, the strong current pulled their stern round and the person trying to push off, with short pole, nearly lost their head as the boat eventually swept through the side of the arch, with crunching sound. We were all too far away to help. A second cruiser in trouble, behind this one, was helped by boaters on the opposite bank.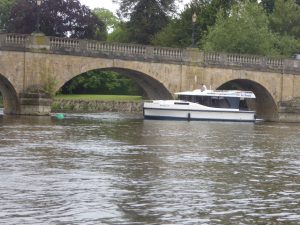 Two lovely evening shots looking towards Wallingford Bridge, water calmed to give reflections:
And breakfast guests before departing to the lovely Goring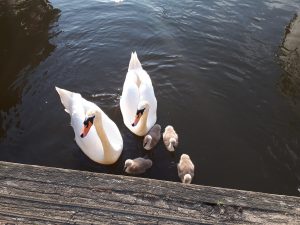 Had a lovely chat with librarian Kari and husband Gary from Calgary who are spending two weeks holiday walking sections of the Thames Path and learned I must read books by canadian author Alan Bradley. She asked me what was my favourite childrens book. Tony had no hesitation in naming Swallows and Amazons by Arthur Ransome but I've been thinking about it ever since! I did enjoy Enid Blytons books…..
We were invited aboard The African Queen restaurant and hotel boat. Met the charming crew and three delightful lady passengers from Milton Keynes.  Sadly they were fully booked!
Of course we had to go and inspect their Britain in Bloom areas from last year- looking promising…..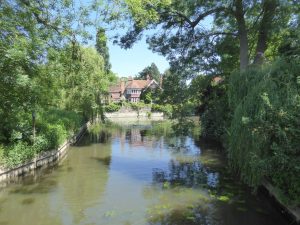 All the floral tributes and notes have been removed from GMs home
And off to Reading passing our favourite post box below the railway line and guarded by  a heron!
Modest riverside homes near Reading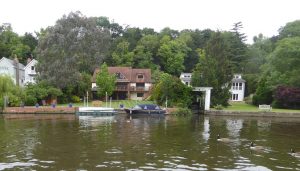 Better Boating ever helpful and well priced diesel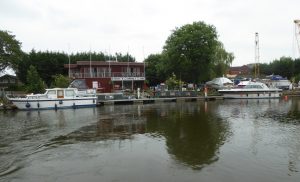 And here we are moored at Tesco Reading on the new pontoon