We looked back at Lincoln Cathedral illuminated at night, from our first mooring at Washingborough where the disused railway runs alongside the river and is used by many cyclists and walkers.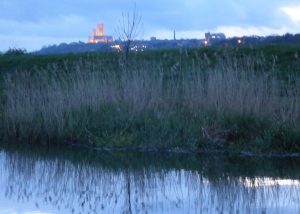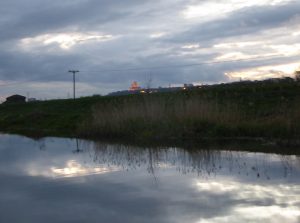 Washingborough is a pretty commuter village with Church and mosaic
In the afternoon we sailed on through Bardney lock and to Bardney Bridge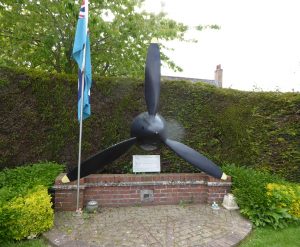 .
War Memorial The small square stone in the middle of the brickwork is from Norway after the sinking of the Tirpitz by 617 Squadron, the Dam Busters.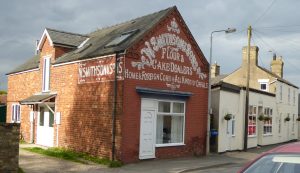 This unusual lettering caught my eye. Close by the local Fish and Chip shop (a very smart place with indoor and outdoor seating) provided us with a  most welcome supper!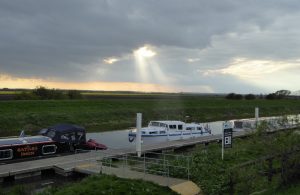 Moored for the night with cruiser Ocean Tide.  Distant glimpse of Lincoln Cathedral.
We had a leisurely Tuesday morning doing jobs around the boat before a short cruise to Kirkstead Bridge. It was so sunny and warm and we put our laundry outside to dry in the sunshine.
Wednesday we did a few more boat related jobs before setting off to walk to Woodhall Spa. This is a lovely place to visit and we last came in the mid nineties with my Mother. Its attractions include the Cottage Museum, War Memorial, the Tea Room in the Woods (excellent) and the Kinema in the Woods. The Kinema has film programme second to none and even has a OAP morning with free tea & biscuits. Sadly it wasn't on Wednesday  The village has some lovely tea shops and eating places, hotels and golf. We discovered a local cake shop that has a replica of the wedding cake it made for Charles and Camilla. It has woods and walks too.
Woodhall Spa was also in the middle of RAF country in World War Two and the Dam Busters were stationed close by. Today RAF Coningsby is close.
Thursday we left Kirkstead Bridge and cruised down to Boston.  The runway at RAF Coningsby is quite close to the river Witham so we saw a lot of Typhoons taking to the skies. It is also base for the Battle of Britain Memorial Flight, but unfortunately we didn't see any of those flying.The Museum is only a short walk from Dogdyke but we had been warned not to moor there,
We met one boat, narrowboat Fox,  travelling upstream and that was the total river traffic for the day, We passed an odd sign "Fish Shelter do not moor" and we are not quite sure what a fish shelter is!
It took four hours nine minutes to complete our journey and we are now moored in Boston facing the famous Stump. The Witham Pub does a steak (large portions!) night on Thursdays so we took advantage of that.
We have stocked up with provisions from M&S and Asda and now await friends John & Hilary who are joining us later today.
Below are images of Boston.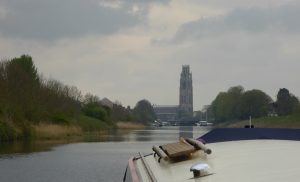 Approaching moorings with St Botolphs otherwise known as Boston Stump. It's the largest parish church in England.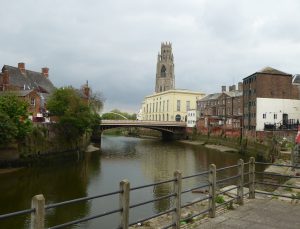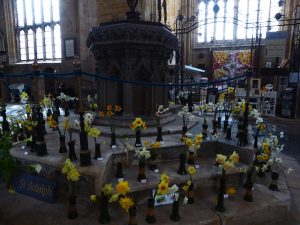 Daffodil Festival
Stained glass window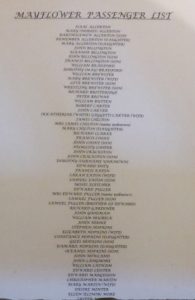 Mayflower passenger list displayed in the Guildhall Museum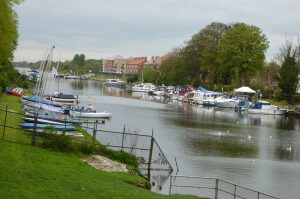 Boston Marina on right, yacht club on left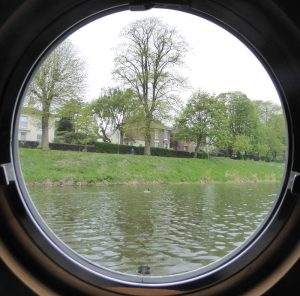 Morning view
Sunset from Matilda
The lock keepers and the pilot are prepared for our next exciting, once in a lifetime journey on Sunday.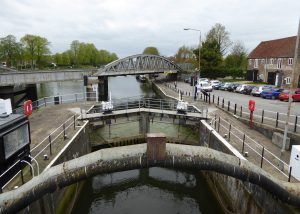 Boston Sluice the first challenge on Sunday 23 April
More adventures to follow…..