The canal bank approaching Lincoln is lined with old boats, sheds and cars before the visitor moorings alongside the university, which has more development under way.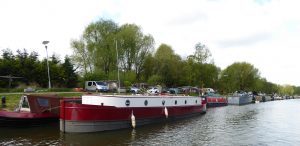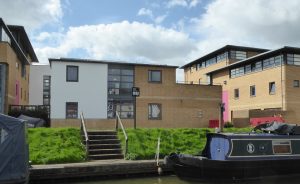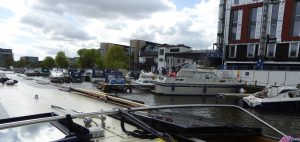 Brayford Pool is lined with restaurant chains – not particularly appealing but you encounter some odd happenings like this Mini meeting outside the Holiday Inn at Brayford Pool:
The Glory Hole is designed to strike terror into the hearts of boaters! It is a very old, small and low bridge preceded by a low road bridge and betwen the two is a slight angle, so tricky for a long and wide boat.  Tonys boat handling was superb and we sailed through without touching the walls, or ceiling!  What was all the fuss about!!!!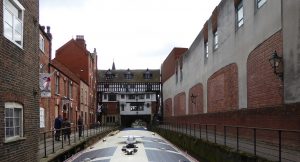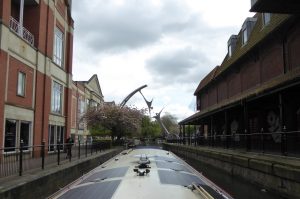 Through the Glory Hole between the main shops towards the impressive statues, and below looking back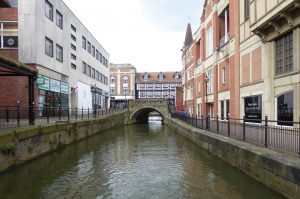 Approaching a very low bridge, at an angle to the canal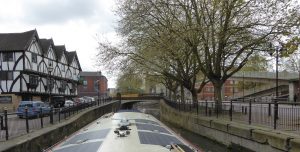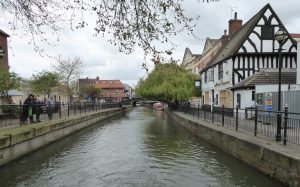 Last glimpse of the Glory Hole and the canal featured between modern developments. A good example of how other town developments could take advantage of their canals. A lot of mooring opportunities, but threatened heavy rain was causing us to press on.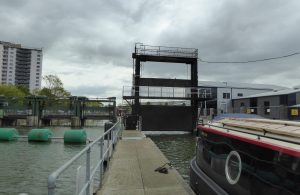 The stamp End Guillotine Lock leads out of Lincoln. The rain began as we were in this lock