As you can see from the photo above the train line and canal follow the same route towards Newbury. So, the suspension of train services this week has meant a very tranquil journey to Hungerford.  The only train running is at Great Bedwyn village shop!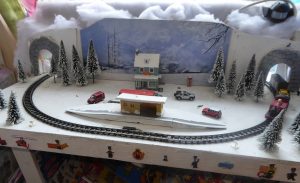 We saw the very first ducklings and one of them was bright yellow. This made us wonder why ducks are always yellow in illustrations and films.   Was Walt Disney responsible?  Let us know your thoughts……..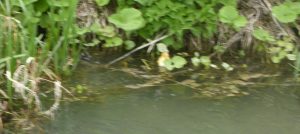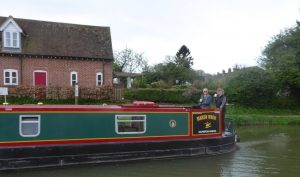 This is Marsh Wren and the lovely couple who so kindly helped with the locks from Great Bedwyn to Hungerford.   Their flight to Portugal was cancelled so the K & A beckoned instead.  They have my very grateful thanks.
We caught up with friend Claire who works in Hungerford.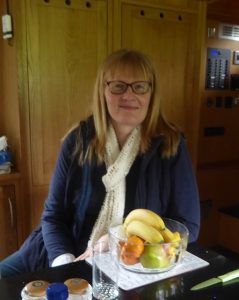 Hungerford itself has a lovely High Street and many antique shops to browse, kitchen shop and bookshop.  It really ought to be a Waitrose town but has Tesco and small Co-op!
It has a lovely common that we walked yesterday, a well preserved WW2 Pill box and a milestone on the A4. The cafe in the centre selling amazing garden ornaments is to be preferred to Costa at the garden centre opposite!
We are keenly watching the reports from the Canal & River Trust regarding the flooding of the River Kennet which joins the K & A canal. Normally it has very little water and almost dries up during the summer months but yesterday we went to inspect, and it was flowing rapidly.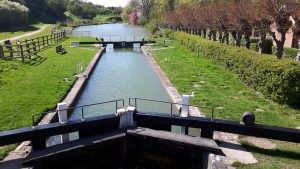 Water flowing over the top lock gates
It's raining again today. The CRT are advising caution if continuing but this morning the lovely Wessex Rose Hotel boat passed us, and she is a similar size to Matilda so if she can make it so should we!  Confidence restored!