We were welcomed to Reading with a partially sunmerged supermarket trolley followed by another in the middle of town and a third at Blakes lock!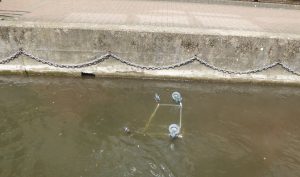 Once out of county lock and with the green traffic light, passage through the bends of the town was rapid with a brisk current pushing Matilda. No place to moor in Oracle Centre.
She nearly came to grief on the stone arched bridge where the current was particularly fierce. Always ready, Tony revved up the engine and we missed disaster by a whisker!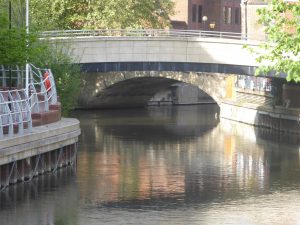 Through Blakes Lock and past the gasometer and under the railway bridge and we were at the Thames.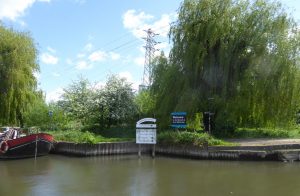 Tony calculated I opened 85 locks and 17 bridges along the K & A. 55 miles in 46 hours.
Once on the Thames we paid a visit to Better Boating Boatyard to top up with fuel and water. They were so helpful to us last year when we had a problem with the weed hatch and no less helpful & pleasant this time.  We had noticed moorings available at Tescos before, on the opposite bank.  We moored up at Christchurch Meadows – a lovely spot and very convenient for the station and town.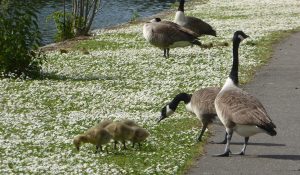 Canada geese and goslings by the boat.
Friday morning we walked to the lock to buy our Thames Licence a requirement to be on the Thames and checked by lock keepers.
Later we explored Reading visiting the town museum a very handsome building
Strangely it has a copy of the Bayeux tapestry!
Huntley & Palmers Biscuits and Suttons Seeds were main industries.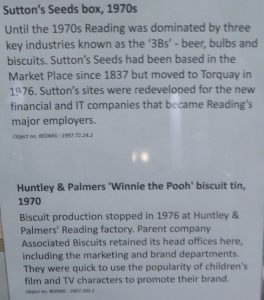 BBC at Caversham, just closing.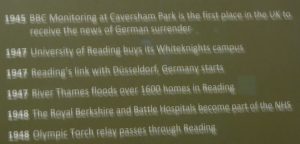 Radiation Meter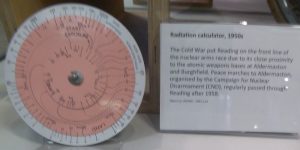 Forbury gardens
Then on by the Abbey Ruins  The Abbey was built by Henry 1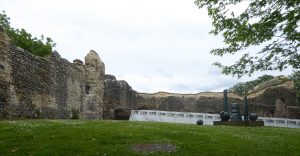 And to the River Kennet and the Riverside Museum which used to be the sewage works!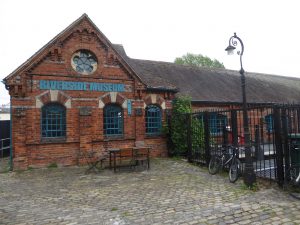 And remember this advert?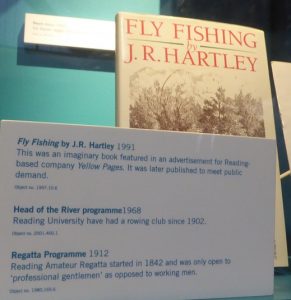 And finally sunset