From the Thames, the entrance to the Kennet and Avon is so depressing. Electrified railway, graffitti on the scruffy bridge, pylons, a gasometer and inevitably a Tesco shopping trolley! The run through the Oracle Centre went very smoothly and there were remarkably few pedestrians about.The surround of the town lock was dirty as usual and leaving the town the canal is narrow with lots of overhanging trees. There were three supermarket trolleys one of them a disabled one, at Rose Kiln Lane bridge – a Morrisons store is nearby.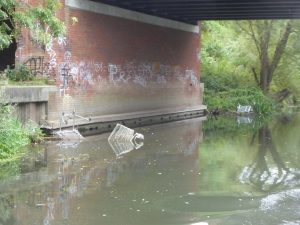 Garstons lock is one of only two (thank goodness) turf sided locks. They are very ugly,  take ages to fill and have to be emptied after use. Not safe for steerer to get off to assist.
Pill box at Garston lock
Tony has been trying for ages to get a good shot of a heron
Rain greeted us at Theale Visitor Moorings but we did manage a short walk to a small park adjacent to the K & A. Workmen came not only to cut a tree but to shred the smaller bits, leaving large logs, presumably for enterprising winter moorer?
The following day was a race to arrive at Aldermaston lift bridge for eleven o'clock. The bridge has developed a fault and is operated only at eleven and four in the afternoon. Tony had to keep Matilda mid stream as at 10.45 all moorings were fully occupied with boats wanting passage under the bridge, and then queuing in the limited space after, as each negotiated the adjacent lock. Sometimes a volunteer, but not this time!
After seven and a half hours we were pretty tired on arrival at Thatcham. Next day was much shorter – just three and a half hours to Newbury  park. We were delighted to see Ham Lock mooring above the water line. It had been totally submerged in April!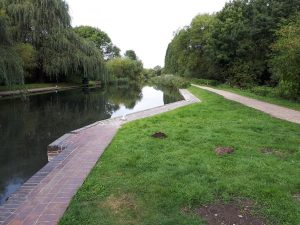 The High Street looking very wet and Camp Hopson a small but smart department store
Notices at the lock
Beautiful beech trees at More Wood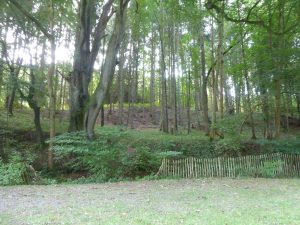 A rather nice shot of Matilda about to sail through a bridge and into a lock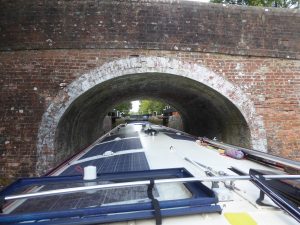 Then on to Kintbury one of our favourite villages. The horse drawn boat was being prepared.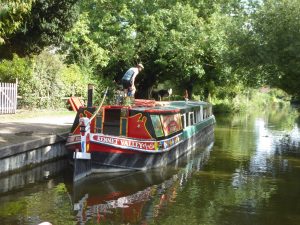 I like to check on the allotments.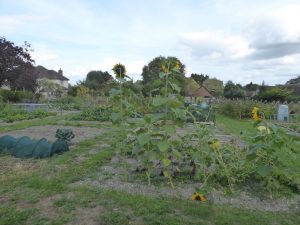 A lovely tribute to those who lost their lives in WW1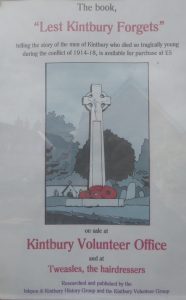 And Vicarage bridge has not been repaired. It was in this state last year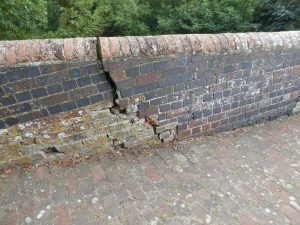 And thinking of repairs……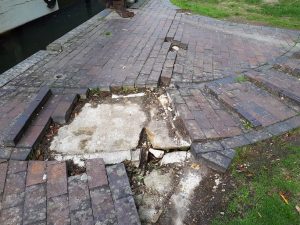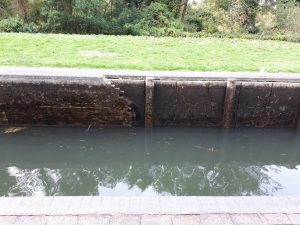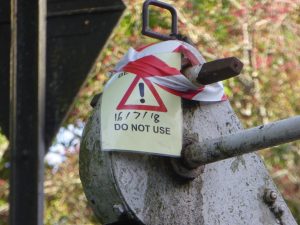 A fishing match just before Hungerford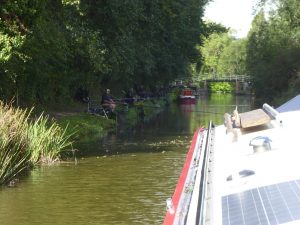 And then off to Hungerford a town we also like. It has lots of antique shops.We came across a small classic car gathering and a local choir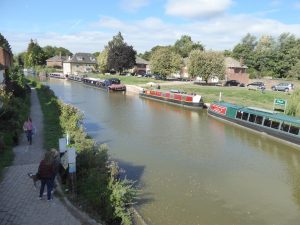 Leaving Hungerford in drizzle I found Marsh Lock Swingbridge a little easier to open. As we left we saw a CRT van driving towards the bridge and lock. How much has been spent on repainting vans with the new colours and logo? I'm sure most boaters would have voted for the money to be spent on maintenance, repairs and making life a little bit easier!  To give an example this photo shows how difficult it is to climb down from the lock gate, Notice the little hanging bit of metal to put your foot in. You cannot see it when descending!!  And it's not high enough for me to step up onto the gate! Just a small wooden step is all thats needed.
By the time we had reached Great Bedwyn it was very warm. Its a pretty village with a station, so easy to commute. It has a Post Office with a very good baker! and a second village shop.   The church is pretty too and this visit it was open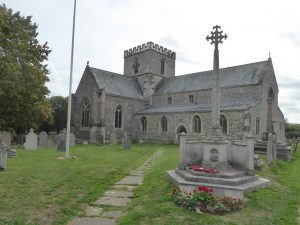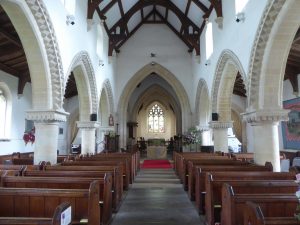 In the middle of the village a lamp post to celebrate Queen Victorias jubilee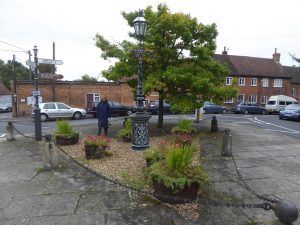 Interesting time at the wharf watching dredging barges being moved from lorries to canal. In our experience a huge cost, and interesting through narrow lanes around Great Bedwyn? Why not arrive by canal?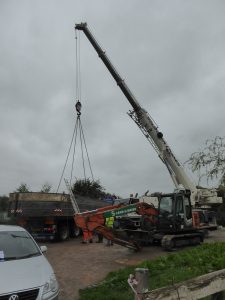 The man standing on the barge was on the phone for the whole time, even pushing the barge into the water! Then they were moored, filling the popular visitor moorings so that when Wessex Rose Hotel Boat came along there was no place to moor! We did offer for her to moor alongside Matilda but once through the bridge she was fortunately able to find a space with the Bruce Trust. The water and pump out facilities were also blocked all day with no warning. Just as they departed at 4pm, they left another barge with digger on, opposite the empty barges, making navigation narrow, and no appearance by 9am the next morning.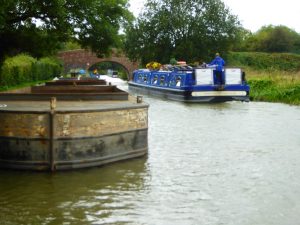 An early start to the next leg of our journey as the weather forcast was pretty dire.  We had not gone far when a boat owner told ther was a tree down across the canal. She was correct!  So out camne the tree loppers and saw and after half an hour or so we had cut a passage through, but the canal is very shallow at this point so we also went aground, A passing walker helped to push Matilda out with the pole but Tony had to do some tricky manoeuvering to finally push the boat through! The wind had increased in speed and we were steering straight into it!  As if the weather wasn't enough to cope with we encountered an orange lifeboat drifting out across the canal Its' forward pin had come out and the wind was pushing the bow out across the canal. So we had to sort it out! Fortunately a number of lady walkers came to help. The wind was gusting (42mph?) and it needed at least two people to hold each rope whilst Tony tried to secure it. No sign of name, number or licence on the boat, which was also moored in the winding point. We managed it in the end and made it to Crofton Visitor moorings where it began to rain again. We hot footed it to the cafe for lunch via the railway tunnel!
Heritage Lottery helped pay for reroofing and smartening up. It looks so much better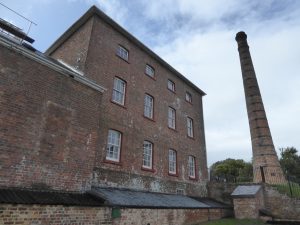 The local farmer has built a house of straw for his little pigs. No big bad wolf in sight!   In this brief period of sunshire we went and picked up windfall apples from canalside, for an apple crumble!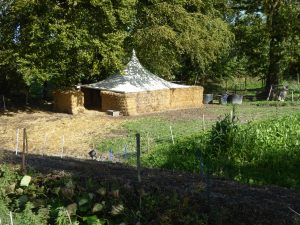 And finally TV at sunset
Devizes now only a week away, storms permitting?