Moored up in Christchurch Meadows where a footbridge takes you over the river and the leads you up to the station & town. we paid for our mooring at the Swimming Baths and went on to have tea in John Lewis where I bought a TomTom fitness band as my pedometer (third or fourth) all became unreliable.
Sold to me by the charming Harry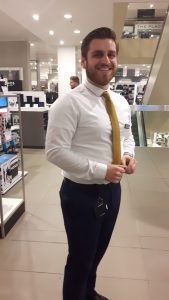 It took me about two hours of struggling to set it up!!
Reading is like many other large towns – unremarkable! It does have a Waitrose but on the other side of town.
Wednesday was a wet day and we took the train to Poole to visit Tony's Father. We are rather enjoying train travel! Note the arrival times!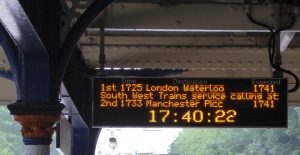 This house appealed to Tony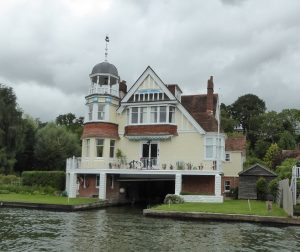 We saw a most intriguing sight on Thursday morning. We were approaching Mapledurham lock and as there was a queue of three large cruisers on the lock mooring the cruiser in front of us and Matilda had to sit mid channel, which was quite difficult as the weir and wind was pushing the boats around. When the lock gates opened several cars yes cars emerged followed by an assortment of amphibious craft. They drove past the weir and up onto land! This happened a second time. Apparently a "duck club" meets annually to drive the Thames!
We found no mooring at Pangbourne so we moored up at Beale Wildlife Park in the early afternoon.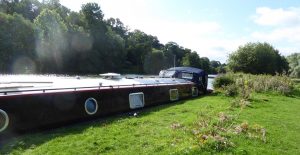 We cut through to reach the main road and walked up to Basildon House NT. It has some charming rooms and has been used for the likes of Downton Abbey.
NOW it's quiz time.   Why did we take this photo?   A prize for the person who answers correctly. Hilary, as you are a volunteer for the NT you cannot take part.!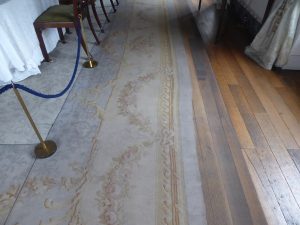 We took a slightly longer hike to return to Matilda!  Having been advised to retrace our steps to the main entrance we found them closed! Fortunately not yet padlocked!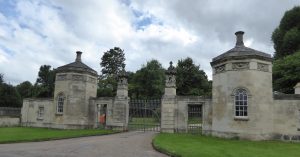 And then we had a problem with the intruder alarm. It would not switch off!!!  Tony found a temporary solution but it was not until we reached Goring the following day that we could ring the company (based in Ireland) to resolve the matter.
Hard at work tree cutting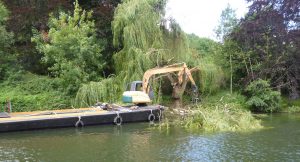 A different summer house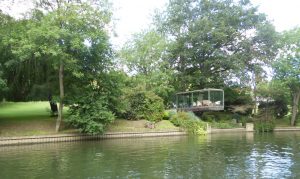 Goring is a delightfully quaint village. Too small to have a Waitrose although a Tesco Metro is about to open above the station. This is Midsomer Murders Country.  It has a superb butcher.  His 'Directors' sausages are delicious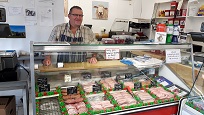 A fantastic grocers/delicatessen with a small bakery, a very well stocked ironmongers,a station and several hotels/pubs. It also has interior design and beauty therapy and hairdressers. What more could you want? I suppose the only odd note is along the lane where the late George Michael lived. Fans have attached flags, flowers and all sorts of messages to the fence and greenery. Beautiful frontage to the house.
Goring Lock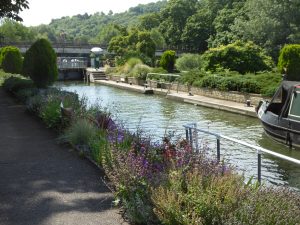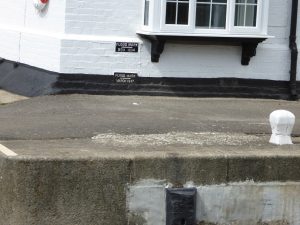 Beautiful leather on Goring Church Doors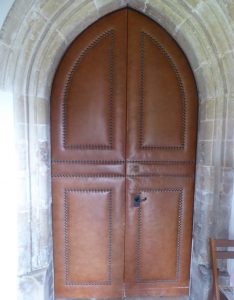 Streatley, on the opposite bank
This made us smile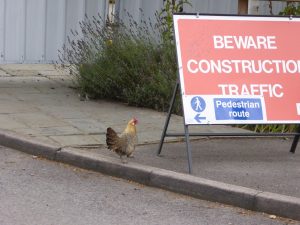 We meet so many lovely people and yesterday being Sunday everyone wanted to stop to talk and come aboard. We met up with Jane on 'Olivella' for the third time. We met her on the River Lee and on the River Wey. Nice to compare notes.  'Following On' from Devizes moored up in front of us and we shall be seeing them again at Caen Hill Marina.