Left Hungerford in drizzle, destination Kintbury
Kintbury is a delightful village and we just made it to the butcher and baker and village shop before they closed at lunchtime.  Sadly the Visitor moorings are less than delightful with all the CRT supplies and rubbish? in full view. Such a shame and a bit of a surprise when next to this is a little conservation area and a raised flowerbed
Left Kintbury on 29th for Newbury. Still warnings of strong currents. The flow above the swing bridge made it impossible to stop in the visitor moorings, Matilda – all 32 tons – was in reverse yet being carried along by the current! Going through the lock and under town bridge was like shooting the rapids! Low arch bridge meant we had to be central, to not catch the cabin!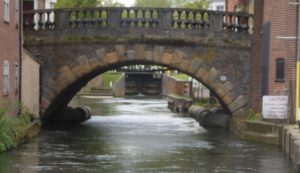 Moored at Victoria Park the first thing we did was to run the central heating!!!
And there she was, Victoria herself guarded by lions. Whilst there the pond was drained on probably the wettest day possible. (Refilled with canal water).  To escape the cold and rain we went the the cinema to see the Guernsey Literary and Potato Peel Pie film. Most enjoyable.
Young paddlers having a great deal of fun. I have great admiration for the grown ups who run these groups.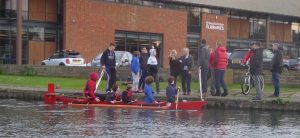 We met up with Roger from Caen Hill Marina, on Ragged Robin, who had moored close to the Newbury Marina.They have very keen pricing on diesel.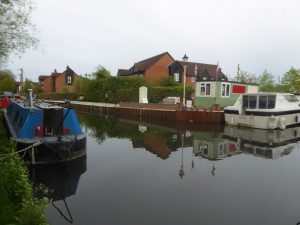 Visited Tony's father on May Day.  He was celebrating his 92nd birthday. On the way back we made a point of checking the Thames at Reading and it looked fine.
This is the stunning mural outside the Newbury library
Today we have travelled from Newbury to Thatcham. Currents still strong, although Canal and River Trust have relaxed their warning. Our biggest hazard today was this lock mooring that was underwater. Fortunately I was walking the towpath so escaped a dip!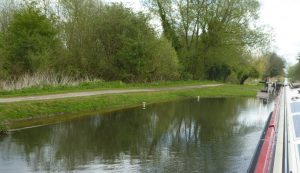 We will stay in Thatcham a couple of days. Don't really want to attend this event in Reading, we have plenty of Wadworths on board!