Another tale of disaster and hazard!
Woolhampton  has a reputation for being difficult. A lock, bend and narrow skewed bridge with a strong current. You can't see the bridge from the lock. As Matilda was almost through the bridge the rollers protecting it caught a rope attached to the inflatable and pulled the davit holding it! Repairs needed as the inflatable was half submerged.
Aldermaston lock has curved edges so you have to watch how far you push the gate!
We stopped for water at Aldermaston as we had run the washing machine as we travelled. The tap is in the garden of the cafe!  Absolutely no mooring and hire boats moored three wide. We continued through the next lock and saw two boats moored so we pulled in for the night above Padworth swing bridge. The following morning we walked a circuit around Veolia  waste site and the village. Returning to Matilda we noticed that the water level had gone down about a foot and she was decidedly aground!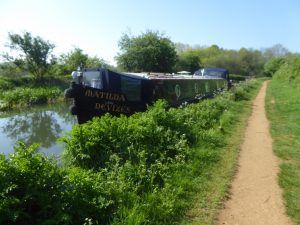 Now getting 32 tons of boat re floated is no easy task but a young and strong man came to our aid with scaffold pole and managed to lever her off.  So grateful for his help. This is his van so if you need your chimney sweeping he's your man!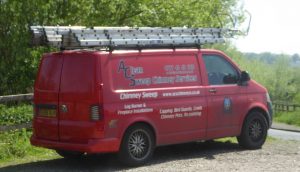 We thought there might be mooring at Tyle Mill but no, the one available space was occupied by a  hire boat and all the other moorings were "by agreement only"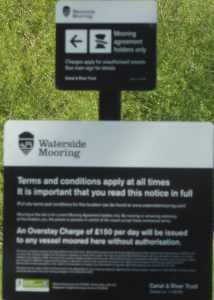 The words are not very clear but there is a charge of £150 for overstaying!
We cruised a short distance and found partial shade above Sulhampton swing bridge. Lots of wildlife!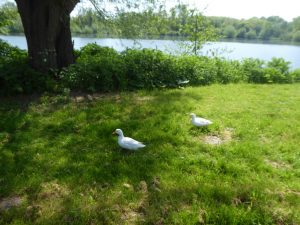 We walked down the towpath into Theale to top up  with milk & wine and to check available moorings. 22degrees at 11.am Had a rest at The Bull and a half of Wadworths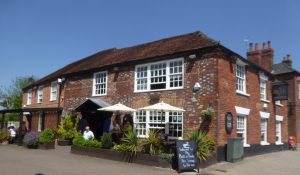 Found this intriguing road sign on our return. Ice on the hottest day so far this year!
Yesterday was spent doing the necessary repairs to the inflatable whilst moored in the shade at Theale.  Today we have visted the Co-op again and this afternoon met up quite by chance with Lay Zee Days who we met last summer in London. They are on their way to Devizes.
Tomorrow we are off to Reading and the Thames.