Our journey from Devizes Wharf to Caen Hill Marina stated at 10.00am. Helped by Carole & James at the very first lock of the day. This was lock number 50.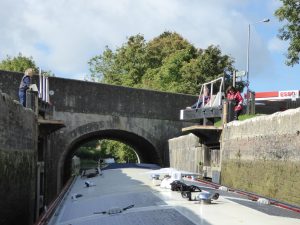 Then Simon had brought along Chris to help both experienced boaters. We also had help from Volunteers Nigel and John. Thank you all. The help was greatly appreciated.
There are 6 locks before the main flight. This is the top of the main flight
The flight runs from lock 44 to 29. We were happy to reach 29!
And just 7 more to reach Caen Hill Marina
We arrived at 4.40pm.  A total of six hours forty minutes. We were all exhausted!
Many thanks to Vanessa who then took me to M & S to buy a Dine in for £10 dinner!