We left Henley on a very fine and warm morning, passing through Hambledon Lock where the charming Simon is the lock keeper.and Hurley lock where the charming Giles is the lock keeper.  Whilst travelling I baked cappucino cupcakes which was just as well because the Hurley Lock teashop closes on Mondays so that Giles can mow the lawns!  Hurley moorings are tucked away on the island and are absolutely stunning.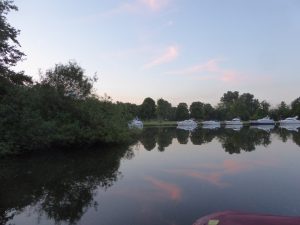 We walked into the village and followed on of its' circular walks, stopping off for a half of bitter and lunch at The Rising Sun. The  Church was once part of an ancient priory.
Free Breakfast? Well not quite……..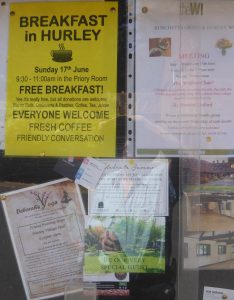 We progressed to Marlow on Tuesday finding a towpath mooring  spot that is free for 24 hours whereas it is now £13.00 along the park
Didn't Red Kites used to be an endangered species? We certainly have seen a lot. Have they been taking lessons from sea gulls?
We walked into the town and came across Tom Kerridge's latest venture with Andy Cook. It's a butchers cum pub. Now who is it in Devizes that has supplied TK with meat for many years?